Ventilation System of an Indoor Swimming Hall in Switzerland
09.06.2021
The ventilation system of a new indoor swimming hall is being planned. The hall includes three swimming pools and a recreational area. On top of the building, several large wooden roof supports have been foreseen. Since they are placed between the glazing, there are concerns that water condensation may occur from the moist air onto the cold glass surfaces due to insufficient ventilation. In turn, this may lead to a possible damage of the supports.

Flowtech has been contracted to check the planned ventilation system and, if required, propose changes to avoid moisture damage. For this purpose, the moist air flow in the hall was simulated with Computational Fluid Dynamics. The model considered relevant phenomena, such as the water evaporation from the pools, natural and forced convection of the air flow, as well as the heat transfer to the outside environment.

The study revealed that changes to the initially planned ventilation system are required to minimize the risk of moisture damage. The constructor will incorporate our recommendations into the ventilation concept.

Visualization of the moist air flow (velocity)

Relative humidity of the moist air in the hall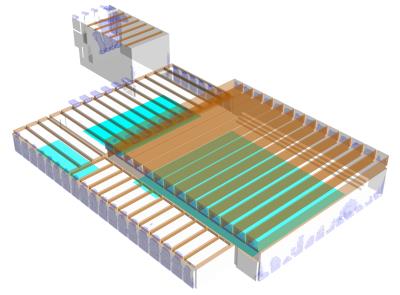 CFD model of the swimming hall

Air temperature distribution in the hall